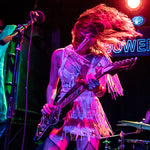 Silverton guitarist Carley Wolf is a rocker from the band The Ghost Wolves. The band hails from Austin, TX and are all canine fangs, wailing guitars and smash 'em up drums! The band's name mirrors the ferocious, primal sounds the Texas duo conjure from drums (Jonny Wolf) and guitar (Carley Wolf), and acknowledges Carley's upbringing among hybrid wolves on her family's ranch. The duo take inspiration from a variety of American styles – blues, rock n' roll, swamp-boogie à la Bo Diddley – and spin it into a hybrid they've dubbed "stomp n' roll."

The band formed in 2010 and released their first EP titled, In Ya Neck, in 2011, followed by the seven-inch, Getchya Hip Thrust, before signing to Nashville's Plowboy Records in 2014 and releasing the album, Man, Woman, Beast. The album was recorded at Austin's famed Arlyn Studios (where Ray Charles, Willie Nelson, Stevie Ray Vaughan have taped) and was mastered by Howie Weinberg (Nirvana, the Ramones, The Clash).

Carley has toured for years with a vintage Silvertone 1478, and has now added a re-issue 1478 to her guitar arsenal. The band tours relentlessly and is always creating new music videos, art and custom stage wear. The Ghost Wolves have collaborated in the studio and on stage with Bushwick Bill (Geto Boys), Johnny Vidacovich (New Orleans' drumming legend) and BP Fallon (Led Zeppelin, John Lennon, T-Rex, Thin Lizzy). They're known for their infectious on-stage chemistry and raw energy, presenting "face-melting riffs and unfettered noisy productions" (Austin Independent Music) to live crowds – over 1000 shows delivered and counting!

In 2014 alone the band played SXSW, Psych Fest, Ireland's Electric Picnic, plus their first European tour dates. Japanese cult fashion line, Hysteric Glamour, flew them to Tokyo to play their 30th Anniversary event. The Ghost Wolves' complete music catalog and custom merchandise were carried exclusively in Hysteric Glamour's Japanese stores for the entire 2014-2015 winter season. Revered global fashion house, Perry Ellis, used an instrumental version of The Ghost Wolves' song "Gonna Live" for a behind-the-scenes look at Michael Maccari's debut collection for Fashion Week in New York City last fall.

"Shotgun Pistol Grip," recorded on Carley's signature one-string Teisco guitar and one of several live during which Jonny plays drums with his feet and left hand – while playing an analog synthesizer with his right – has been featured on the hit TV series Shameless. "Dangerous Moves" was used in Oxygen's Bad Girl's Club and in the over-the-top trailer for Japanese martial arts film, Why Don't You Play in Hell? "Attack Attack Attack" was heard on MTV's Real World: Explosion, "Itch" on Oxygen's Funny Girls, and Oxygen's Best Ink used "Gonna Live" and "Baby Fang Thang."

photo: john vipper
photo: jacquiline badeaux