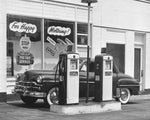 Blues and country music were American art forms that moved across the country as people migrated west, north and in every other direction. Servicemen returning from World War II brought folk styles back from Europe and jazz was approaching its heyday.
The 1950s was a great decade to be a guitar player. Along with new music styles, new guitar ideas were coming from inventors, tinkerers and technicians. Recording technology was improving, popular music was expanding and everybody wanted to party.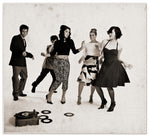 The guitar folks at Sears were well aware of the trend and the line of Silvertone electric guitars expanded greatly in the '50s. The watershed event being the introduction of the first Silvertone solid body electric in 1954. The first solid bodies were the 1361 and 1363 models that made a brief appearance in the Spring/Summer 1954 catalog. In the fall of '54, Dan electro, the company that made Silvertone amplifiers for several years, began their long run of Silvertone models. The 1375 (single pickup) and 1377 (two pickups) models first appeared with a solid poplar, single-cutaway "peanut" body. A year later, the famous "lipstick" pickups made their debut. By 1958, the peanut body had gained 2" in width and the highly popular 1303/U2 models were introduced.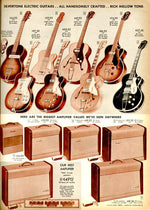 Single-pickup models had the pickup mounted in the neck position, rather than in the bridge position that we'd expect today. Guitar tone back then was darker and rounder than we think of it today, and solid body guitars were aiming for the mellow tone of a full-size jazz guitar. But by the end of the '50s, guitarists were beginning to consider the solid body guitar as its own animal – the boundaries of guitar sound were expanding.

Just about every musical icons of the '60s played their first notes on Silvertone guitars in the 1950s. Jimi Hendrix named his 1956 Silvertone "Betty Jean," after his girlfriend. Bob Dylan rocked a 1319 in 1958. At least one 1950s-era Silvertone can be heard on Dylan's 2006 release, "Modern Times."
Over 100 biographies of modern musicians mention Silvertone and the first guitar brand of well-known musicians. And why not – they were affordable, reliable and available to anyone with a Sears catalog (which was just about everyone at the time).
As the decade came to a close, music was getting ready for major changes and disruptions. New sounds were happening and even the way that music was written, recorded and sold was changing. The big factor – baby boom kids were just entering their teens and looking to break out of the norms. Times were a-changing.