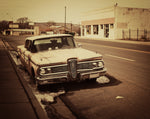 The 1960s were a decade of change in just about every facet of American life. Early in the decade, there was a great new interest in folk music as folk artists moved from rural areas to the cities. Pete Seeger, Dave Van Ronk, Joan Baez and Bob Dylan began to get notice, and as they grew in popularity, many young people picked up guitars to join them. Like today, high-end guitars were expensive and upscale makers just couldn't keep up with the demand for acoustic guitars.
Country, blues and rockabilly also gained in popularity, driving up demand for electric guitars. Overnite, there was a skyrocketing demand for both acoustic and electric guitars and Silvertone had access to a handful of manufacturers who could supply significant quantities. Once the British Invasion hit full stride in the mid'60s there weren't enough guitars to go around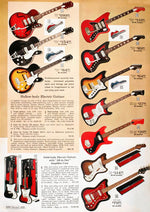 In 1959, Joe Fisher became the principal musical instrument buyer for Sears. He stayed in the position until 1968 and eventually became a vice president of the company. He had a big impact on how the Silvertone line developed in the '60s. He could see the demand for guitars growing and he worked with his guitar suppliers to develop instruments with features that young players wanted at prices they could afford. It was through his effort that Silvertone emerged as the leading brand for garage band guitarists. In the mid-'60s a Fender Strat sold new for around $300. A good starter Silvertone could be had for around $80. The math made sense to thousands of players.
During the '60s, Silvertone tapped many of America's guitar makers. Names  like Harmony, Kay, Danelectro, Supro, Valco and National all made guitars under the Silvertone name. Some of these were nearly identical to those that wore the maker's name and others were developed specifically for Silvertone. For a great peek at the classic guitars from the period, check out silvertoneworld.com and vintagesilvertones.com. Both are great resources for Silvertones of days gone by.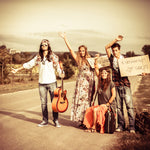 Fast Forward

The demand for vintage guitars of the 1950s and '60s soared of over the past few decades and prices for exclusive vintage axes can top $100,000. Recently there's been great interest in Silvertone guitars from the era with many models that originally sold for under $100 now demanding prices over $1,000. That's where we come in.
Silvertone Reissue models have all the vibe and tone of the original vintage models, but with upgraded features – better bridges, machine heads and neck joints — that make them true professional instruments for the 2000s. And you can buy a new Silvertone Reissue model for about the same price – in 1960 dollars adjusted to 2013 dollars – as the original.
The line of Silvertone Reissues is expanding. We hope to reintroduce as many of the classic models of yesteryear as players demand. If you have a special model from back in the day that you'd like to see us make, drop us a note here and let us know.