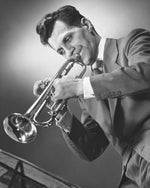 As early as 1905, Sears, Roebuck & Company was selling musical instruments – mainly ukuleles – built by the Harmony Company. In 1916, Harmony was bought by Sears, continuing to make instruments for Sears and other customers. In 1940, Sears sold the Harmony brand to an investment group and adopted the Silvertone brand name for all musical instruments By then, Sears was buying instruments from many other U.S. builders as well as Harmony.
The country was still very rural prior to World War II with the population spread out over wide areas. The big "catalog houses" such as Sears, Montgomery Ward and Spiegel served customers around the country from their big city headquarters. These companies sold nearly everything that you needed, and some would even ship you the house to put it all in.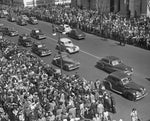 The 1940s market the introduction of Silvertone electric guitars. The late '30s had seen plenty of 'Hawaiian' lap steel instruments and amps, but 1941 marked the first year you could get an electric six-string in the Sears catalog. The selections were limited, but the funky, eclectic styling and easy affordability made them popular with players.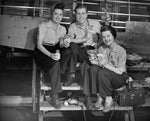 Silvertone guitars were inexpensive and readily available by mail order. Struggling blues musicians of the 1940s found them roadworthy and replaceable, with legends such as Muddy Waters and Arthur "Big Boy" Crudup among those who chose Silvertones.
Changes were coming fast and furious in the post-war period. Musical tastes were changing, the suburbs were exploding and there was a cultural energy waiting to be unleashed.
The electric guitar went solid in the 1950s, and Silvertone was right there at the beginning.