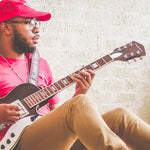 Jamaal Franklin was born and raised in Memphis, Tennessee.  He began his musical journey as a child with his two triplet brothers, singing and playing drums at his home church. He started playing the piano at the age of 6 and the guitar at the age of 11. Jamaal attended the Stax Music Academy, where he learned to shape and nurture his craft, and he began his professional career at the age of 17. Jamaal currently travels/tours with Tamela Mann, Lisa Knowles-Smith & The Brown Singers, Maranda Curtis, Jessica Ray, and Nick Black.

He has worked with many great artists and creators: Kirk Franklin,  J.J. Hairston, Anthony Brown & group therAPy, Tim Rodgers & The Fellas, Vincent Tharpe & Kenosis, Donald Lawrence, Donnie McKlukin, Karen Clark-Sheard, Kelontae Gavin, Myron Butler, Evvie Mckinney, Shirley Caesar, Yael Hilton, Gene Hoskins, Emi Secrest, Four Washington, Brittany Wright, Trey Graves, Josh Bracy & Power Anointed, Kevin Davidson, D. McGhee, TaUndria Newson-Shears, The Spiritual Soldiers, Fred Perry & 2nd Generation, The Joylettes, Beverly Crawford, Cortney Richardson The Tennessee Mass Choir, AJ Wells, The Echoaires, Frank Ray Jr., Courtney Franklin, Tamela Hairston, & Korey Mickie.

Jamaal's gifts and talents also led him to be a background actor/musician on a pilot episode of  BET's "Curves." He has taken his gifts all over the United States and other countries such as England, France, & Canada. Jamaal is one-half of CrayJay, a duo formed with childhood friend Craylon Davis. Together, they also started a production company, SoundLab, where they have produced for Ted Winn, Porcelan, A'dria, Lana J, and many more. Jamaal has released two EPs on Soundcloud, "The Love Story" and "The Love Story: Part Two," along with many other creative tracks.

LINKS:
Soundcloud
Instagram
Facebook