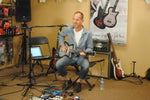 Lawrence Katz knows how to get off and on the beat as the guitarist for The Mighty Mighty Bosstones.  Beyond his Ska-life, Lawrence is a songwriter, producer and studio owner. His Argyle Music is active in all phases of the music biz. When he's not on the road with the Bosstones, he's producing for artists in various genres and even fitting in some commercial work for Ford Motors and other international clients.
There's a special place in Lawrence's heart for the 1478 Reissue. He praises its singular      appeal. "This is a guitar that has a personality and a sound that's unique unto itself – it's not trying to be a replica of something else."

Lawrence took time out from his busy schedule to conduct a guitar clinic at GoDpsMusic in Thousand Oaks, California. You can sit in on the clinic here.