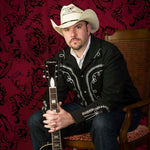 Brad Williams was born and raised in the Arkansas Delta, only 18 miles from Johnny Cash's home and 39 miles from Elvis Presley's Graceland. The gumbo-laden farmland formed his appreciation for all types of music including the Sun Studio era, Bluegrass, Gospel and the Blues. Brad has combined all of his influences into a 25-year career in music. Brad's tunes have been heard in motion pictures (Valley Inn), on television (Sundance's – Rectify, Tyler Perry's series – If Loving You Is Wrong, TLC's Trading Spaces), and on various other advertising spots including Arkansas State Parks and Tourism. The Salty Dogs have been Brad's main project over the last 20 years spawning such awards as the Arkansas Country Music Association's 2021 Vocal Band of the Year. When Brad is not performing with The Salty Dogs, you may catch him playing guitar with Bonnie Montgomery, Big Silver, and the Amy Garland band.
The Salty Dogs started as a lark retro-country act, the quartet immediately found chemistry, along with a lot of joy, as they dug into their craft. Their sound has expanded over a decade and a half, from uber-twang and purist classic country to equal parts 1954 Nashville, 1961 Bakersfield, and 1972 Everywhere.
The band has played countless shows sharing the stage with such likes of Willie Nelson, Hank Williams, Jr., Old Crow Medicine Show, Billy Joe Shaver, Robert Earl Keen, The Gourds, Pete Anderson, David Rawlings, Kinky Friedman, Junior Brown, Kelly Willis and many more.
Praise for The Salty Dogs:
"The Salty Dogs sound the way country music should sound. Authentic and looking forward. One foot in Arkansas, one foot in California. I'll have more please!" –Odie Blackmon (Grammy nominated songwriter)
"Just got done listening to these new Salty Dogs tunes, great stuff as usual. Very traditional without falling into the endless sea of the 60 years too late rockabilly wannabes or common sounding ditties. Nice songs that don't all sound alike – great stuff guys!" -Gary Bennett (BR5-49/Gary Bennett)