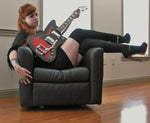 Kim Logan
"Kim Logan is straight Southern swamp rock, drenched in whiskey and cigarette smoke … She's got the pipes of a goddess, and the attitude of a … Kim Logan. There's really no other way to come at it."
– Itoro Idoku (Public Garage Sale, Nashville Scene)

After a decade in the opera industry, Kim Logan left the beaches of Sarasota, Florida to write songs and make records in Nashville.
From the delta blues to the psychedelic '60s; from the golden years of classic country to the perfect rock & roll of mid-century Britain, Kim illustrates her roots through her original music. In the domain of the kings of rock & roll, Kim is a roots queen.

A classic, craftsman's songwriting sensibility, paired with sonic homage to the unique sub-genres of Southern music, makes for Kim's gap-bridging, line-blurring, time-traveling sound. She eschews the digital, preferring the warm, honest soul of tubes, tape and vinyl. Her Silvertone 1478 is a perfect arrow for her sonic quiver and she shoots it straight to the heart.

With her education from the Berklee College of Music, and her years of the kind of hands-on learning you can only get in honky tonks and on highways, Kim flexes her artistic muscles and impressive pipes on her debut self-titled album. The diverse and compelling songs on her debut album were written over the course of her first two years living in Nashville.

See Kim and her Silvertone 1478 in action here: Kim Logan Debut Video