Aaron Beavers and Harley Husbands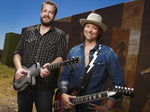 There's a garage at the crossroads of soul, country, and rock'n'roll, where the Austin, TX-based band, Shurman, keeps its spirit. The roots of Shurman go back to Aaron Beavers' first garage band in Texas when he was but a young teen. His roots encompass the full range of American music and his playing displays a passion for guitar that Texans seem to understand best.

About his Silvertone 1478, Aaron says, "I've always been fond of vintage guitars and that "old school tone" but unfortunately a lot of those old guitars aren't very road worthy. These new Silvertone Reissues have the look and feel of those vintage guitars but with better build quality and hardware – it's the best of both worlds. The pickups on the 1478 really nail that vintage 60's tone. My Silvertone is easy to play, and damn it looks cool!"

Shurman has gained a reputation as a "must-see live act" built on their sweat-drenched live shows and relentless touring schedule. Underneath the raw energy and grit of the band's performance lie memorable songs and inspired musicianship. Their latest studio release, "Inspiration", is available on their label, Teletone Records, on CD & limited edition 180-gram vinyl. With this record the band stands poised to fulfill All Music Guide's prediction that their "songwriting and synchronicity will carve out a distinct place for the band on the contemporary music scene."

Shurman tours constantly. Keep track of them at www.shurmanville.com.
Photos: chadwickfowler.com