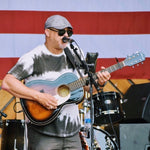 Music, which has always been a crucial part of Timbers' life, was more important than ever. The son of a local Gospel singer, Timbers found his passion for music where most great musicians find theirs–in church. At the age of 9, Timbers picked up the guitar and never looked back. 
While attending university with the intention of becoming a veterinarian, Timbers decided to pause his education to take his love of music more seriously. In 1994 he formed the Virginia-based blues band, Less Traveled, with himself as the frontman and lead songwriter. The band found success with their self-produced album Nobody, which developed their following and led to multiple touring opportunities. After sharing the stage with acts such as Agents of Good Roots, Merl Saunders (Jerry Garcia Band), and Tim Reynolds (Dave Matthews Band and TR3), Timbers began to gain recognition as a songwriter. 
After many years with Less Traveled, Timbers decided to strike out on his own and move to New York City. While in "the City That Never Sleeps", Timbers continued to work on his unique style and technique while becoming a standout favorite in the Brooklyn music scene.
After a run into legal troubles, Timbers had to halt his accelerating career and spend some years away in a federal detention facility. This time allowed him to realize his need for self-reinvention, focusing on the positive in life while using his past to propel him forward.
I remember walking out onto the prison yard and into the recreation center for the first time. Seeing a room full of acoustic guitars and right next to that room, a live band room with drums, guitar amps, mics, and a PA system. I thought to myself right then and there;
    'I CAN DO THIS!'.
Timbers returned to Virginia with a renewed sense of purpose and direction. After reconnecting with bass player Mike Echols, whom Timbers credits for a huge part of his newfound success, the singer/songwriter decided to form the Chris Timbers Band.
Together with Echols on bass and vocals, drummer Paul Dudley, saxophonist Eli Gonzalez, and lead guitarist Peter Thomas, Chris Timbers Band represents a style of music that's a combination of country, contemporary jazz, blues, rock and "alternative soul." Together they continue to revamp old songs while writing and recording new ones.
Timbers' first solo album, Keep Moving, is a journey through his heart and soul. From the title track that speaks of reconnecting with old friends after being away, to songs like "War" which provide insight into his views on politics and the current state of the world, the album showcases Timbers' diverse writing styles. His fans will hear rock undertones combined with a delicate mixture of R&B, country, and jazz and blues influences…and they'll be glad to hear from him again.
Find out more about Chris here: 
ChrisTimbers.com