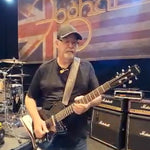 Bryan Bassett is an American guitarist who has been playing with Foghat since 1999. Previously he was as a member of Wild Cherry and Molly Hatchet.
Born in Pittsburgh, Pennsylvania, Bryan began playing with local bands in the late 1960s and early 1970s before joining Wild Cherry in 1975. They recorded the hit "Play That Funky Music" that same year. Bryan plays the recognizable guitar riff that introduces the song. He continued on with Wild Cherry until their breakup in 1979, and they charted a few more hits. After which he went on to a successful career as a music producer in the 1980s.
In 1989 Bryan formed a friendship with Foghat's "Lonesome" Dave Peverett and joined his band, which was billed as Lonesome Dave's Foghat, playing with them until 1993. It was at this time that Bryan joined Molly Hatchet and toured with them until 1999. In 1999 Foghat guitarist Rod Price left the group and Bryan was asked to take his place in the band. Bassett still performs with Foghat to this day.