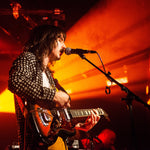 Matt Gibbs is a recording artist, performer, band geek, composer, and multi-instrumentalist. He is also the founding member and front person of the 7 piece psychedelic/garage rock septet Evolfo, and a recording/touring member of the bands Acid Tongue and Ben Pirani & the Means of Production. Matt has been extremely fortunate to share stages and studios with such artists as Ben Kweller, Chuck Prophet, Jimmie Dale Gilmore, Bill Kirchin, Rodes Rollins, Holiday Mountain, Lizzie No, Ralph Weeks, and Brian Jackson. Notable festival appearances include the Hardly Strictly Bluegrass Festival, SXSW, CMJ, Treefort, Utopia Fest, OffBeat, and The Seattle Freakout. 
At the age of 12, while growing up in the SF bay area, he started my first rock band and has not been without a band or two since. Following high school, he left the bay to attend Berklee College of Music where he graduated with honors and a dual degree in writing and production and performance. After college Matt moved to Brooklyn, NY and made it his home. In Brooklyn he operates a recording studio, primarily as headquarters for working with bands and as a home base for writing, recording, and rehearsing with Evolfo. In addition to my recording work, He also composes music for the experimental theatre group The Stairwell Theater. 
"I have dedicated my life to music for the sheer love and the ecstasy of performance. I go where my ears, not the money, leads. Because this is so, the bleak financials of the music industry could do nothing to discourage me. If I was in this for financial gain I would have switched careers years ago. Consider me a rock and roll lifer."
Evolfo is his primary artistic vehicle and the band has had a distinct influence in the garage rock and psychedelic genre, receiving accolades from trend setting publications like Bandcamp Daily, Shindig, and Psychedelic Baby Magazines. Evolfo's song "Moon Eclipsed the Sun" has garnered nearly 6 million streams on Spotify and been featured in several short documentaries and a major network TV Show [The Originals on the CW Network]. Evolfo is signed to Royal Potato Family records, Forge Ahead Touring for US tours, and Rola Music for European tours.
Praise for Matt and Evolfo:
"Gibbs' bombastic stage antics were just as expressive and wild as the band's sound. As he played, he would kick and leap in grand explosive motions that were like if Chuck Berry and Pete Townshend's classic moves were animated by Tex Avery" - Record Crates United
"[Evolfo] has a Stooges-esque attitude and a fierce vocal performance from guitarist/singer Matt Gibbs" - Paste Magazine
"The Brooklyn band deliver a blissful psychedelic rock album steeped in sci-fi and spirituality, awash with organs, strings, and reverb" - Bandcamp
"This undercurrent of hellfire underneath sonic bliss is a transfixing balancing act that makes Evolfo a cut above the majority of psych bands mining the sounds of the '60s Haight-Ashby scene." - Ears to Feed
"This album [Last of the Acid Cowboys] is a dynamite debut and Evolfo are clearly a group to keep an eye on as their talent, craftsmanship and playing are all exhilarating" - Glide Magazine