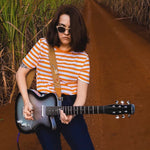 Francinni Bessie is a Brazilian musician who stands out in the technique of slide guitar. At a young age, she became interested in the rawness of the blues and performed at renowned festivals in the country, sharing the stage with great artists from the national and international scene.
Today Bessie is a part of 'The Bessies Blues Duo' with her partner Zambotto Blues Boy on rhythm guitar, vocals and harmonica. Lovers of vintage tones and roots music in general, The Bessies takes the audience on a journey through the blues universe with a lot of personality.
With her loyal 1303 and 1478 Silvertones on the road, Francinni Bessie represents the feminine side of a new generation of guitarists.